Docs finding angiography a money spinner
On : Wed, 09 Feb 2011
Docs finding angiography a money spinner
Anshu Seth
Tribune News Service


Angiography is the X-ray study of blood vessels. An angiogram uses a radiopaque substance or dye to make the blood vessels visible under the X-ray.

Angiography if done unnecessarily can subject the person to internal bleeding or haemorrhage, as the procedure involves puncturing of the artery. Catheter can cause complications as the heart may also become irritated by the movement of the catheter through its chambers during pulmonary and coronary angiographic.
The contrast medium used in the angiography has known to cause allergic reactions, which include swelling, difficulty breathing, heart failure or a sudden drop in the blood pressure.
Ludhiana, June 11
Incidents of cardiac surgeons resorting to medical malpractices by performing invasive coronary angiography on patients complaining of chest pain or other heart problems without first diagnosing them are on the rise in the city's leading hospitals.
The procedure, which is a medical imaging technique involving insertion of a catheter into an artery of the patient, is essential in controlling coronary heart disease. However, when performed for the sake of making quick money, it is not only a violation of medical ethics but also a fraudulent practice that may adversely affect the patient's health and even cause injury.
In one such recent incident, a doctor was admitted to a leading heart care centre in the city after he complained of severe pain in the chest. He was taken to the emergency ward and then sent for an angiography. The doctor and his relatives were later aghast to learn the procedure was conducted without the physician concerned thoroughly studying the patient's previous reports.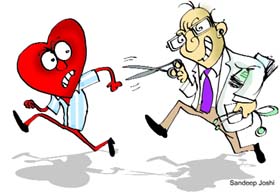 "However, what was more shocking was the fact that the cardiologist later apologized and said I only had a pneumonia patch and the angiography was not required," the doctor stated.
A senior physician, while alluding to the hefty commissions involved in the procedure, said residents in cardiac care centres are given targets to get the maximum number of patients for invasive angiography.
"Each resident gets Rs 1,000 to Rs 3,000 per patient for performing angiography. Similarly, stenting too has become the best way for easy money as doctors are getting commissions up to Rs 40,000 for every stent. So much so that even the doctors who refer patients to cardiologists are offered a commission of up to 10 per cent", the physician stated.
In another example, Harbhajan Singh, an NRI residing in Britain, was admitted to a leading cardiac care hospital in the region after he suffered a stroke. He was taken for angiography followed by three stents without even being told by the attendants. Later, a bill of Rs 6 lakh was charged from the patient.
64-Slice CT Scanners Hold Tremendous Promise
On : Fri, 03 Dec 2010
The advent of 64-slice computed tomography (CT) scanners, representing the latest in high-tech offerings in medical radiology and imaging, provides improved resolution and detail in imaging techniques and holds tremendous promise in continued growth in diagnostic imaging of previously unreachable areas.

Cardiac imaging represents one of the key areas rapid changes are expected in CT, said Dr. Jack B. Foster, a cardiologist with Cardiology Associates of North Mississippi, of Tupelo.

"We began doing our first cases with our 64-slice CT scanner on Feb. 6 and it has made a tremendous difference in our practice," said Foster. "We acquired the machine because we felt this very interesting and exciting new technology would play an important role in cardiac care in the next few years, particularly in non-invasive imaging."

The Tupelo area has two 64-slice CT scanners. Foster's group acquired one; North Mississippi Medical Center joint-ventured with radiologists to purchase the scanner outside the hospital.

"The new 64-slice CT scanner is being well received by our patients," said Foster. "The study doesn't take long and it's done on a purely outpatient basis. Using the scanner should decrease the number of patients having normal cardiac catheterizations and increase the percentage of patients going to the cath lab that will need either a coronary stent or bypass surgery."

Mississippi as a whole only has about a half dozen of the newest CT imaging machines. When Forrest General Hospital (FGH) unveiled its new 64-slice imaging system last summer, it was the first in central and south Mississippi. With the new technology, FGH physicians capture images of a beating heart in five heartbeats, an organ in one second, and perform whole body trauma in 10 seconds, more than twice as fast as conventional multi-slice CT scanners. The speed is particularly helpful in shortening breath holds for geriatric patients, patients on ventilators, and pediatric patients.

"The LightSpeed VCT is a tremendous benefit to our patients," said Dr. Mark Molpus, radiologist and FGH medical director of radiology. "We're able to scan the patients from head to toe in a matter of seconds, reducing their time on the table, stress and anxiety. The technology also allows the physicians to see the images more clearly and rapidly, resulting in a quicker diagnosis."

In a single rotation, the scanner creates 64 high-resolution anatomical images as thin as a credit card. These images are combined to form a three-dimensional view of the patient's anatomy for the physician to analyze. From these images, physicians can view such things as blockages in the coronary arteries, as well as the motion and pumping action of a patient's heart.

In addition to the 5-Beat Cardiac™ feature, which captures images of the entire heart and coronary arteries in only five heartbeats, the 64-slice CT scanner also features:

- Triple Rule Out™ . This tool helps physicians rule out three individual causes of a patient's chest pain through a single quick scan: aortic dissection, pulmonary embolism and coronary artery disease.

- Stroke Work-Up. The scanner offers physicians the speed and resolution required for rapid imaging of blood vessels in the brain, enabling them to make a quick diagnosis and determine the best course of treatment while reducing the number of exams a patient may need to undergo.

The 64-slice CT scanner also improves all aspects of:

- CT Colonography. With the full-time sub-millimeter imaging and increased acquisition speeds, the spatial resolution advances the distinctiveness of smaller polyps. Isotropic imaging increases the usefulness of multi-planar reformations and endoluminal viewing.

- Orthopedic imaging. Because the 64-slice scanners acquire data with full time sub-millimeter resolution, excellent orthopedic images are produced, improving the speed of diagnosis, particularly in the area of trauma imaging.

- Perfusion imaging. Currently performed on four-, eight- and 16-slice scanners, brain perfusion imaging with the 64-slice scanners makes obtaining a diagnostic examination easier and less prone to mistakes. With the growth of designated "stroke centers," more hospitals are adding perfusion imaging to their protocol. With the development of molecular imaging, perfusion imaging for organs and pathologies other than the brain is also on the protocol horizon.

Other typical procedures using the scanner include abdominal injuries, angiography studies, coronary artery calcification scoring, inner ear ailments, kidney exams, liver exams, oncology/cancer care, pediatric assessment, pulmonary emboli, and spinal injuries.

"Looking at the CT alone, we've come up with four-, eight-, 16-, 32- and now 64-slice scanners," said Foster. "With every new step in the number of slices a scanner acquires per rotation, the number of images for each study dramatically increases."

What about the light-years advancement of using 128- and 256-slice scanners?

"Those are on the horizon, but it'll be several years before we see them come to the marketplace," explained Foster. "The 64-slice CT scanner is right where we need to be for cardiac imaging. Can there be better technology to improve cardiac CT? Absolutely. We're still unsure what the role is beyond what we're already doing for cardiac noninvasive imaging. Technology has advanced faster than the clinical application, and more clinical studies will definitely be forthcoming."

To reach the potential of cardiac CT angiography with the new 64-slice CT scanners, several events need to take place. Mainstream acceptance and use in hospitals and imaging centers nationwide will not occur until insurance carriers begin to reimburse healthcare providers for the examination. The American Medical Association, which oversees current procedural terminology (CPT) codes, recently created four new CPT codes for coronary CT angiography and four new cardiac CT codes.

Another challenge lurks. Cardiologists are trained to use the new imaging modalities, while radiologists who control them aren't trained in the organs that need to be studied. Institutional radiology has failed to train residents in cardiac imaging. Academic and practitioner circles have competing agendas.

"The radiology/cardiology issue requires working together," said Foster. "Both major national groups are working together, and guidelines are out there for radiologists and cardiologists to be credentialed. It'll all work out."

Medical facilities in Mississippi that have 64-slice CT scanners also include the Hattiesburg Clinic, St. Dominic Jackson Memorial Hospital, and Ocean Springs Hospital.